Praise for Inescapable Damnation is already starting to role in: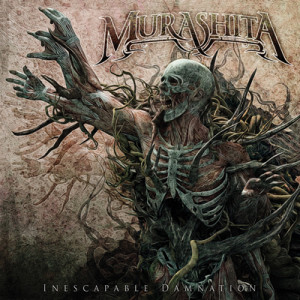 "The EP as a whole is the definition of thrash, but brings different elements into the mix which creates Murashita's own signature sound." – Metal Nexus
"… The thing that really gets me about this record is the quality of the guitar work. Every solo is absolutely nailed and the riffs are deliciously chunky. Meanwhile, more angular and terrifying black metal moments face off to create a truly intense listen that leaves your body shaking in unholy motion. The fact of the matter is that Masaki Murashita is clearly a top notch musician and he is able to create a stunning atmosphere in a mere five songs. These are tracks that not only get your head banging but also give you incentive to dive into the pit. These riffs are made for circle pits and stage diving, and it create a sense of chaos that I really value…" – Two Guys Metal Reviews
"… I must say the soloing is the art of Masaki Murashita. He would succeed if he did power metal from example or technical brutal death metal, or as a solo virtuoso guitarist. He would succeed anyway. Well the bottom line is: kings are born kings, so don't waste your time and pay homage to Murashita. Now, you mortal!" – Dark Souls United
"Murashita has come up with his own distinct brand of heavy metal. It is not only different, it is also bloody good… Murashita is a fine musician doing some great guitar work on this this five-track EP. He is also a great songwriter and a singer who has a very distinct vocal style that is a great fit for the music." – Roppongi Rocks
"…Masaki brings his lead guitar and scorching vocals back to the forefront with his solo debut and I am left completely jubilant at what I've been listening to…" Rated 5/5 – Metal Odyssey
"…There's a thrash backbone in "Inescapable Damnation", and Murashita has concocted riffs that not only get the adrenaline flowing and the blood pumping but also exude a sensation of grim menace — a sensation that's magnified by the ravenous ferocity of his snarling voice. But there's still more to this attention-grabbing song: It includes a guitar solo that reflects great melodic sensibility, in addition to physical dexterity; it's a reminder that memorable soloing is about more than how fast you can shred…" – No Clean Singing
"… The entire album contains several moments of pure technical ecstasy, while the fast paced drums and high screams give the record a pleasant heaviness. This is a very solid release, from the fast riffs on opening track 'Retribution' to the technical guitar solos on 'Conquer The Foe'. Everything on the demo is of a very high quality. The production is great, the music is good and the guest musicians are handpicked with great care. 'Inescapable Damnation' should definitely be followed up by a full length album. Hopefully Murashita will be one of those Japanese musicians that finally makes a stand in Europe and beyond." – Lords of Metal Zine
"From start to end, very much an artistic wonder. They have something sick and unique here."
Rated 10/10 – Taste of Khaos
"Expecting first full-length release Murashita, we have developed very high expectations after the "Inescapable Damnation". (Review in Greek) Rated 8.5/10 – GreekRebels
"With outstanding guitar work, great lyrics and a complete lack of conformity to industry expectations, "Inescapable Damnation" is a metal manifestation." – Full Metal Rock
"Five songs are just too little, it is too short. You just want to hear more! I certainly do.
This is definitely a must, a must-have!" (Review in Dutch) Rated 9/10 – Dutch Distortion
"Leaving us with expectations of how he will come out in a full-length, if he keeps the quality and dynamics imposed on the EP, will surely be ready for the highlight of his career." Rated 9/10 – Metal Temple
Rated 8.5/10 (Review in French) – Heavy Sound Webzine
---
Reviews on "Misanthropic Slaughter"
"Misanthropic Slaughter" reflects a band fully shed of any stylistic overlaps; Masaki's gravelly rasp has been honed to a gritty, saw blade edge very much his own, and the music screams not of mimicry but intelligent adoration of the immortal rip and shred. A-, Brian Davis, Metaleater.com
"Of all the unsigned bands I've heard over the last 3 years or so, they are without a doubt the band that has it all together…" Rated 9 out of 10 Scott, www.Hookinmouth.net
"What a testament to the metal scene when an unsigned band like this can put their big label peers to shame. These young hopefuls really have got their shit together. Look for Hemoptysis' debut full-length album, Misanthropic Slaughter, out this spring and more from us on this band soon." – Metalcallout.com
"…this is some of the best Oldschool Thrash Metal I've heard in a long time…It's incredible how an unsigned band like this manages to sound better than lots of signed bands." Rated 9 out of 10 – Guido, Dose of Metal
"…they up the ante in the American thrash department." Rated 4 out of 5, – xMAIDENx, stereokiller.com
"Straight out of the blistering sands of Arizona comes the band Hemoptysis. Promoting their new release "Misanthropic Slaughter", existing and new fans alike are in for a special treat. As the title track begins to melt the listener's ears; a lethal blend of thrash, heavy, and death metal bleeds through and through. Hemoptysis has a very unique way of combining different genres together to create a melodic yet heavy sound. Their ability to "bring it" has been showcased on this album very well."- Reviewed by Dean Osuna, Ultimate Local Music
"…it rips…" – Vince Neilstein – www.Metalsucks.net
"WVOX'S 'Metal Mayhem' show rules the New York airwaves with Hemoptysis! 'Misanthropic Slaughter' is destined to put these highly- talented guys on the map for good! Get this cd at all costs – it will be one of the big surprises of the year! Hemoptysis is one of the more creative and superior thrash outfits I have ever had the privilege of spinning on the air in a long, long time!…" Matt O'Shaughnessy – WVOX'S 'Metal Mayhem', New York.
"I was so blown away that I decided to take on the review task myself as an editorial review. Misanthropic Slaughter contains 11 tracks that sound like they were written, produced, mixed, recorded, and executed by a group of elite musicians who know metal and how it should be layed down. I still can't believe these guys are unsigned and shopping for a label, well all I can say is – If I had a label, I would sign these guys from Arizona and put them where they should be. Hemoptysis sound tighter, more well rounded, and better most of the other cookie cutter crap the labels are sending me. If Misanthropic Slaughter is the future of American Metal, things are looking good. "- Downshifter, Full Metal Rock
"The first time Misanthropic Slaughter entered my ears, a realization flooded through my Metal mind and veins that HEMOPTYSIS is a band that cannot be stopped nor contained. not when the Thrash I'm hearing is this staggering. How on Earth can HEMOPTYSIS be an unsigned band? Some may question my Metal enthusiasm here. I respond by stating: this is a band that has 0% tolerance for pretentious Metal and has administered to my ears an original sound, that is bad ass personified." – Stone, Metal Odyssey
"Misanthropic Slaughter has elements of thrash metal, death metal and melodic death metal with the end resulting in a unique sound. The talent is very much there and overall "Misanthropic Slaughter" is infectious, exciting and absurdly fun to listen. The musicianship is outstanding and tight for a debut album. Check them out!!!!"- Mahesh, Forbidden Magazine
"Misanthropic Slaughter is a true underground thrash metal. Hemoptysis incorporates death/black metal elements; such as singer Masaki Murashita's growling, melodic vocals and the commanding drum work of Travis Thune; combined with refreshing, potent riffs – deliver the goods. -"- Ruben Mosqueda, Rock & Rolla Zine
"…the songs are very well written and the delivery is faultless…The year is only a few days old and already the benchmark for 2011 thrash has been set…" – Iain, CackBlabbath.co.uk
"Have Hemoptysis managed to deliver the goods? Hell yes!" Rated 90 out of 100, Loucifer, Loucifer Speaks
"Set to be released on March 8 it's (Misanthropic Slaughter) filled with 11 tracks and 50 minutes of some of the best extreme music I've heard in awhile. The songs range from just pure speed riffs with catchy hooks to fantastic leads to hitting melodic grooves, sometimes in the same song. … Bottom line is that this band has put together an excellent album for extreme music fans and needs to be heard. Currently they are unsigned but after what I've heard there should be no reason a label does not pick these guys up. The amount of effort in putting together such a good package needs to be rewarded." 8 sins out of 10, Reviewed by Robert Lisenby, That Devil Music
"This band is one of true professionalism with the packages they send out, the images they create, and the music they play. After listening to Misanthropic Slaughter I had to literally take a couple of minutes to recover from the onslaught of heavy hitting drums and vocals that make you realize this band is trying to collect your soul. I immediately went to the media pack to see what company they are signed with and low and behold… they don't have a deal! It amazes me that the music world is always crying for the next big thing, but when it comes along and even has a highly acclaimed EP under its belt; it just slips by and continues to play clubs while some of these backyard "core" bands are playing major stages and making real money. Pisses me off! The album drops very soon and remember; do what you can as a fan to get these guys signed. They deserve it, and metal deserves it. Show me your horns," – Martell, www.welovemetal.com
"Most often billed as a Thrash / Death Metal band, Hemoptysis are so much more. Building off that thrash/death core, the band flawlessly incorporates strong European elements of Black Metal, Melodic Death, and (in my ears) even good old fashioned Priest meets Maiden Heavy/Power Metal! This new CD will surely show the world just how diverse and talented they really are." – Reviewed by Don Harrison, www.metalcrotch.com
"Gawddamn this shit is brutal and I'll safely say that I'll be mopping up the drool pools left over from my jaw being on the floor for the last few hours spinning this one !!!!!!" – Reviewed by Janet Willis, hellridemusic.com