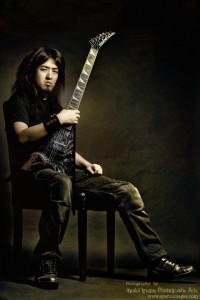 An accomplished musician, songwriter, and recording engineer with over six years of experience in the entertainment industry, Masaki Murashita brings a level of professionalism and know how that is sure to take your project to the next level.
He has worked with some of the biggest names in the industry, including Grammy Award winning producer Ryan Greene (NOFX, Authority Zero, F5), platinum selling recording artist Megadeth, and metal underground heavy hitters Agoraphobic Nosebleed & Benedictum. No project is too big or too small.
Masaki is also the lead vocalist/guitarist for the critically acclaimed Thrash Metal power house, Hemoptysis.
Endorsements include Jackson Guitars, Engl Amps, EMG Pickups, Providence cables, straps and effects, Morley pedals, Pigtronix, Maxon (Godlyke), InTune Guitar Picks, SIT Strings, Coffin Case, and Mono Case.