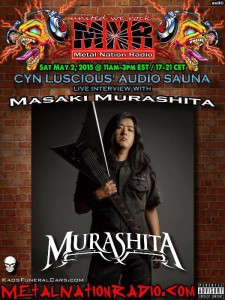 Masaki Murashita had appeared on Metal Nation Radio's speciality show, Cynfully Luscious' Audio Sauna on May 2. The interview is now available on podcast at this location.
MURASHITA released the debut single "Retribution" in January, and the track features bassist Kelly Conlon (DEATH, MONSTROSITY, VITAL REMAINS), drummer Kevin Talley (SUFFOCATION, SIX FEET UNDER, CHIMAIRA) and was Mixed by Ryan Greene (Megadeth, NOFX).
The official lyric video for "Retribution" is available at this location.
For more info, visit MURASHITA's official website at www.masakimurashita.com
On the web:
www.masakimurashita.com
www.facebook.com/murashitamusic
www.twitter.com/masakimurashita
www.youtube.com/masakimurashita