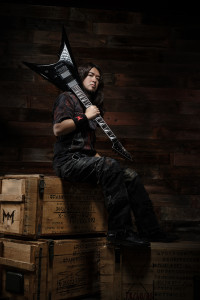 Masaki Murashita, Singer/Guitarist of Los Angeles Melodic Death/Thrash band MURASHITA and ex-HEMOPTYSIS is proud to announce his new endorsement deal with ESP Guitars. Notable ESP Guitars artists include James Hetfield, Kirk Hammet, Gary Holt, Alex Skolnick, George Lynch, Alexi Laiho and many others.
Murashita comments:
"I'm excited and proud to join the ESP family. I've used their guitars while recording my upcoming record, and I was amazed at the sound and playability. I look forward to playing ESP Guitars live and in the studio for many years to come."
MURASHITA is currently recording the debut EP, due this summer.
MURASHITA released the single "Retribution" in January. The track features bassist Kelly Conlon (DEATH, MONSTROSITY, VITAL REMAINS), drummer Kevin Talley (SUFFOCATION, SIX FEET UNDER, CHIMAIRA) and was Mixed by Ryan Greene (Megadeth, NOFX).
The official lyric video for "Retribution" is available at this location.
For more info, visit MURASHITA's official website at www.masakimurashita.com
On the web:
www.masakimurashita.com
www.facebook.com/murashitamusic
www.twitter.com/masakimurashita
www.youtube.com/masakimurashita