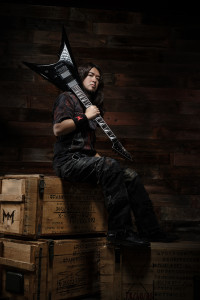 METAL JAPAN recently interviewed singer/guitarist/engineer Masaki Murashita. Murashita talked about upcoming debut EP, Japan tour, and more. Click here to read the interview (Interview is written in Japanese).
MURASHITA recently announced Japan tour dates and currently recording the debut EP, due this summer..
Tour Dates:
Sep. 04 – Nagoya – Imaike Club 3Star
Sep. 05 – Tokyo – Meguro Rokumeikan
Sep. 11 – Tokyo – Shinjuku WildSide Tokyo
Sep. 13 – Osaka – Namba Rockets
MURASHITA released the single "Retribution" in January. The track features bassist Kelly Conlon (DEATH, MONSTROSITY, VITAL REMAINS), drummer Kevin Talley (SUFFOCATION, SIX FEET UNDER, CHIMAIRA) and was Mixed by Ryan Greene (Megadeth, NOFX).
The official lyric video for "Retribution" is available at this location.
For more info, visit MURASHITA's official website at www.masakimurashita.com
On the web:
www.masakimurashita.com
www.facebook.com/murashitamusic
www.twitter.com/masakimurashita
www.youtube.com/masakimurashita