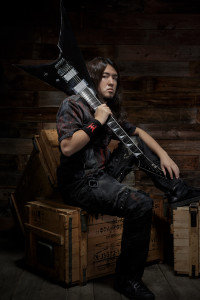 MURASHITA guitarist Masaki Murashita has posted a play through video for the title track from the band's recently released EP, 
Inescapable Damnation. 
 The video features a close up shot of the renowned guitarist showcasing his celebrated shredding skills. Get your face melted at   
https://youtu.be/laoOsJ-kUt8
 .
Digital copies of Inescapable Damnation are available at:
MURASHITA is  the new project masterminded by  guitarist, producer and engineer Masaki Murashita.   Inescapable Damnation features  performances from David Ellefson (Megadeth), Kevin Talley (Suffocation, Six Feet Under, Chimaira), Kelly Conlon (Death, Monstrosity) and Rodney McGlothlin (Voice of Dissent).