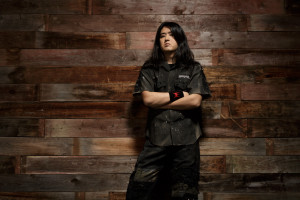 MURASHITA, the new band led by former Hemoptysis front man/guitarist Masaki Murashita began recording debut EP, tentatively due this summer.
Murashita says,
"I'm stoked to have all of our fans to hear these new songs. The recording is going well and Kevin Talley did amazing job on drums! Also, you will hear a special surprise soon, so stay tuned!"
MURASHITA released the debut single "Retribution" in January, and the track features bassist Kelly Conlon (DEATH, MONSTROSITY, VITAL REMAINS), drummer Kevin Talley (SUFFOCATION, SIX FEET UNDER, CHIMAIRA) and was Mixed by Ryan Greene (Megadeth, NOFX).
The official lyric video for "Retribution" is available at this location.
For more info, visit MURASHITA's official website at www.masakimurashita.com
On the web:
www.masakimurashita.com
www.facebook.com/murashitamusic
www.twitter.com/masakimurashita
www.youtube.com/masakimurashita