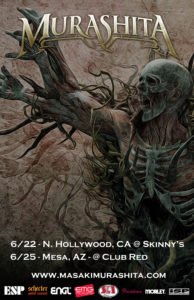 Los Angeles Melodic Death/Thrash group Murashita, the solo project of Singer/Guitarist Masaki Murashita (ex-HEMOPTYSIS) has announced the debut U.S. shows starting in the southwest after their successful Japan tour last September.
Murashita recruited Rodney McGlothlin (Voice of Dissent) on bass, Patrick Morton (Wes Cage, Solar Haze) on lead guitar, and Chris Aguirre (Rattlehead) on drums as a permanent live lineup.
Murashita comments: "I am super stoked to be playing in the U.S. again with great talents and people. There are good vibes and amazing energy in the band, and I'm beyond happy to finally have a band that is the powerful, unified unit that I've wanted for years. I can't wait to hit the stage with the guys to showcase this killer new quartet. More dates are in the works. See you in the pit!".
Dates:
Wednesday, June 22 at Skinny's Lounge in North Hollywood, CA.
Saturday, June 25 at Club Red in Mesa, AZ.
w/ Animus Complex, Chivalry Is Dead, Alterra, Virulent, and Path of Exile
Murashita's debut EP, Inescapable Damnation, which features the talents of David Ellefson (Megadeth), Kevin Talley (Suffocation, Six Feet Under, Chimaira), Kelly Conlon (Death, Monstrosity) and Rodney McGlothlin (Voice of Dissent), is in stores through Plastic Head Distribution. It's also available at Murashita's official store, iTunes, Amazon, CDBaby, and many other online outlets.