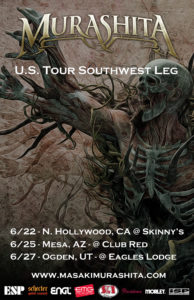 Los Angeles Melodic Death/Thrash group Murashita, the solo project of Singer/Guitarist Masaki Murashita (ex-HEMOPTYSIS) has announced the addition of Utah date to the  U.S. Southwest Tour in June.
Murashita U.S. Debut Tour Dates:
Wednesday, June 22 at Skinny's Lounge in North Hollywood, CA.
Saturday, June 25 at Club Red in Mesa, AZ.
w/ Animus Complex, Chivalry Is Dead, Alterra, Virulent, and Path of Exile
*Tickets available at this location.
Monday, June 27 at Eagles Lodge Foe 2472 in Ogden, UT.
Murashita recruited Rodney McGlothlin (Voice of Dissent) on bass, Patrick Morton (Wes Cage, Solar Haze) on lead guitar, and Chris Aguirre (Rattlehead) on drums as a permanent live lineup.
Murashita's debut EP, Inescapable Damnation, which features the talents of David Ellefson (Megadeth), Kevin Talley (Suffocation, Six Feet Under, Chimaira), Kelly Conlon (Death, Monstrosity) and Rodney McGlothlin (Voice of Dissent), is in stores through Plastic Head Distribution. It's also available at Murashita's official store, iTunes, Amazon, CDBaby, and many other online outlets.